A FAST-ACTING RUST, OXIDATION & HULL CLEANER

Not only does Shark Gel work wonders on metal trims and tabs, but its light phosphoric acid formulation can remove even the most stubborn fouling and growth on a Hull Pro-treated hull!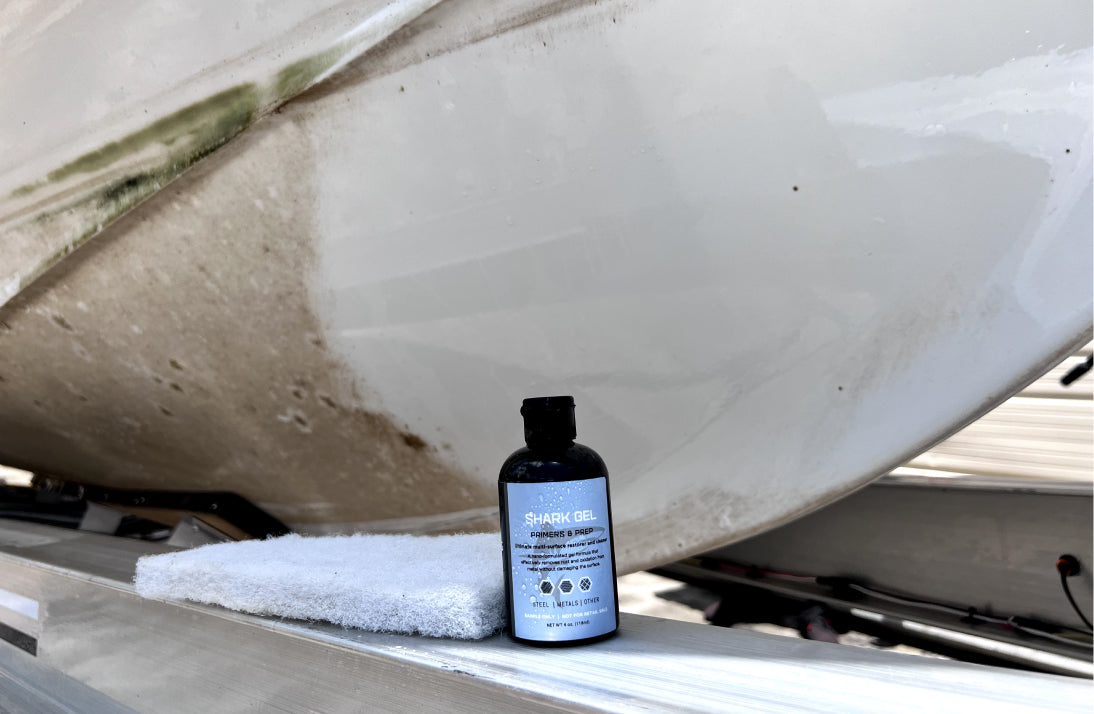 CLEAN GROWTH OFF OF HULL PRO
HULLS
GEL
FORMULATION MAKES APPLICATION EASY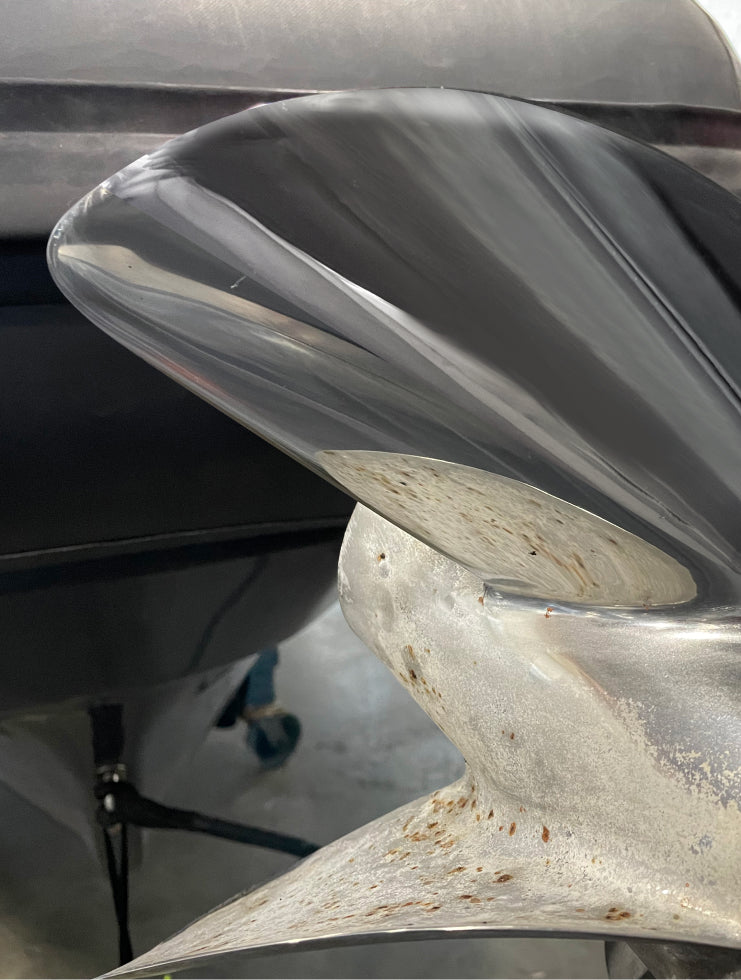 FAST-ACTING CLEANER FOR FOULING, OXIDATION AND RUST!
If you've protected your vessel with Hull Pro, Shark Gel is the best cleaner to use over your Hull Pro coating. It won't damage the coating, works quickly, and easily removes hard fouling without scraping and scrubbing.

Designed for metals, Shark Gel also easily removes rust and oxidation from your vessel's trims and tabs!
REMOVES RUST & OXIDATION FROM METAL TRIM TABS AND ABOVE-SURFACE PROPS
FAST-ACTING FORMULA

Shark Gel starts working immediately after applied. For hard fouling on Hull Pro-treated hulls, we recommend using a 3M white scouring pad. For stubborn rust, we recommend leaving Shark Gel for a few minutes before wiping off. Multi-tasking is possible when Shark Gel does all the heavy-lifting!

COST EFFECTIVE CLEANER

With Shark Gel, save money on cleaning materials! There's no need for additional chemicals, bleaches and cleaners to get the job done. Cleaning metal surfaces and Hull Pro-treated hulls is easy with our easy-to-use and formula.

GEL IS GREAT FOR VERTICALS

The gel formulation of Shark Gel adheres to surfaces and remains in place while it works. Because it is a gel formula, it's great for use on vertical metal surfaces like railings and walls, and of course, Hull Pro-coated hulls.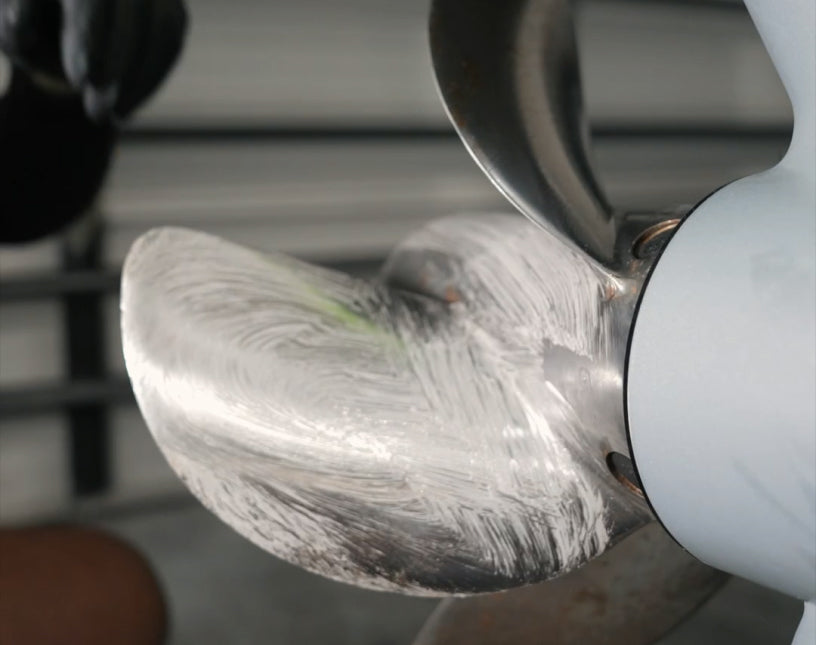 APPLICATION INFORMATION
Shark Gel can be applied using a brush or by using a microfiber cloth. Depending on the amount of rust, oxidation or growth, you may want to let it sit for up to 5 minutes on the surface prior to wiping off with a microfiber cloth or rinsing with water. Check out our application guide for details.
APPLICATION GUIDE(PDF)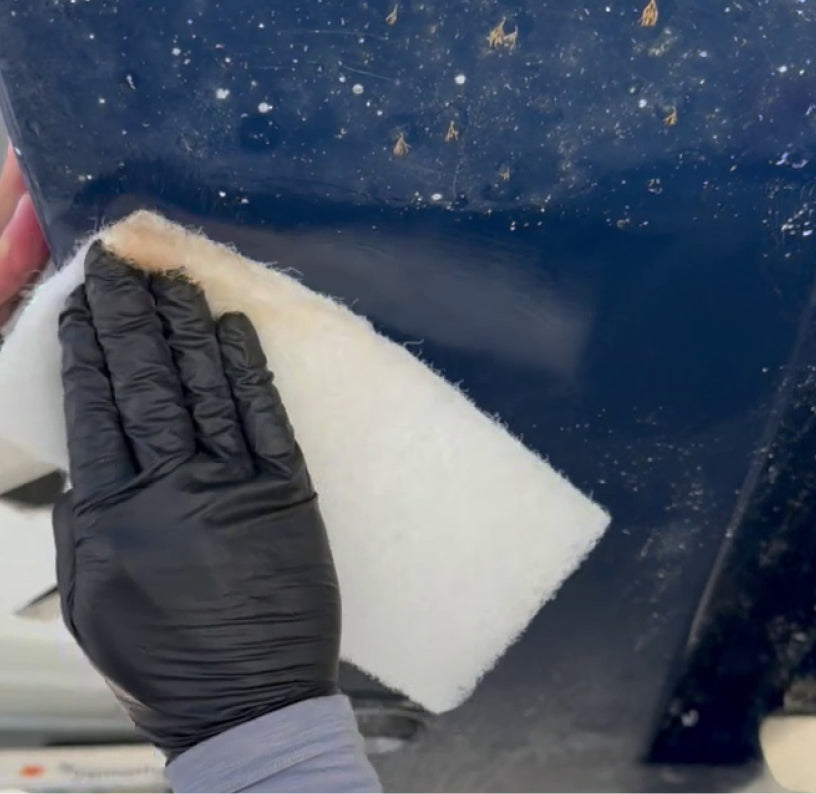 CARE & MAINTENANCE
If you take care of your Hull Pro-coated hull, our formulation takes care of you. Regular maintenance and cleaning is still recommended and the frequency will depend on your water type and your growth rate. Download our helpful post-application care guide and keep it handy!
CARE & MAINTENANCE GUIDE (PDF)
FREQUENTLY ASKED QUESTIONS
We've collected some of the most frequently asked questions about Shark Gel. Below are some of the most commonly asked questions about our product, application, and care and maintenance.
Will Shark Gel harm my Hull Pro coating?

No, Shark Gel will not harm your gel coated or Hull Pro or coated vessel! Feel free to apply directly to your Hull Pro-protected vessel where you find rust or oxidation and see instant results. Do NOT apply Shark Gel directly to bare gelcoat or an uncoated hull as this may etch the surface.
Will Shark Gel work on cleaning everything?

NO. You should use Shark Gel on bare metal surfaces or a Hull Pro-treated hull. Do NOT use Shark Gel on ceramic as it will etch the surface. Do NOT use Shark Gel near natural wood as it will permanently stain wood surfaces. It is always important to test a small area to ensure Shark Gel's compatibility prior to application.
Why is gel more suitable for application than a liquid?

Unlike spray-on or liquid cleaners, Shark Gel is a thick, clear gel. This makes it easier to apply for vertical or slanted surfaces without dripping. Because the gel adheres better to these surfaces, Shark Gel works without having users waste the product by overapplying.
Are there any safety concerns when using Shark Gel?

Yes. It is important that Shark Gel is applied with caution and the correct PPE. Always apply while wearing gloves in a well ventilated environment. Do not inhale or ingest and avoid contact with skin. See our Safety Data Sheet here. If contact with the skin is made, skin irritation may occur. Wash the affected area thoroughly with soap and water.
Is Shark Gel only intended for use in marine environments?

No. Shark Gel has been used in the construction industry as well to clean rust and stains from concrete hardscapes, but we have seen amazing results when using Shark Gel in the marine industry, specifically with trims and tabs and to clean growth off of a Hull Pro-treated hull.
Does Shark Gel contain Hydrochloric Acid?

No. Unlike other market competitors, Shark Gel contains no hydrochloric acid. Hydrochloric acid is very harsh, may contain harmful fumes and vapors during application, and may cause chemical burns if not used with the proper safety precautions. Shark Gel's active ingredient is phosphoric acid, which is less volatile to use, but still fast-acting enough to get the job done!
Still have additional questions? Contact us below. We're here to help!
PRODUCT DOCUMENTS & SPECIFICATION
TECHNICAL INFORMATION
| | |
| --- | --- |
| Type | Liquid gel |
| Color | Clear |
| pH | 0.3 ± 0.2 |
| Density | 1.35 ± 0.05 kg/L |
| Viscosity | 80 ± 0.5cP @ 68°F (20°C) |
APPLICATION INFORMATION
| | |
| --- | --- |
| Coverage (Single-application) | 1 gallon covers ~350 sqft |
| Application Temperature | 41-95°F (5-35°C) |
| Substrate Application Temperature | 41-95°F (5-35°C) |
| Application Conditions | ~72 h @ 68°F (20°C) (48 hours after full cure) |
EXPLORE MORE
CONVERSION PRIMER THAT PROTECTS FROM CORROSION AND HULL OSMOSIS